Press release Faculty of Impact, NWO, VSNU & Techleap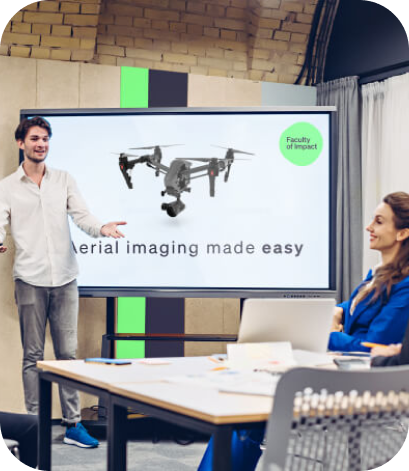 Press release Faculty of Impact, NWO, VSNU & Techleap
The Hague, 11 November 2021, 13:00 hrs
The first round of Faculty of Impact will focus on the energy transition and sustainability. Potential candidates can start applying today. The Faculty of Impact supports and coaches scientists in their effort to increase the impact of their research, through their own non-profit organization or commercial company.
The national programme for scientists who want to start a company based on their research is an initiative of Dutch universities together with Techleap and NWO.
Unique opportunity for startups
The Faculty of Impact offers researchers a two-year programme during which they can fully focus on bringing their invention to the world. Mirjam van Praag, administrative manager of Impact and Valorisation at the Association of Universities in the Netherlands (VSNU) and chair of the Executive Board of VU Amsterdam: 'The Faculty of Impact is a unique opportunity for scientists who want to enhance their social impact through a start-up. This two-year programme gives them the time, resources, support and training that scientific entrepreneurs need. Ultimately, this will enable us to get more social value out of science.'
Sufficient time to develop business
Researchers with entrepreneurial aspirations will receive two years of intensive and personal guidance at the Faculty of Impact from experts in the fields of entrepreneurship, intellectual property and investment. They will also be exempted from administrative and teaching duties so they have the time and space to focus properly on their organization.
''These kinds of programmes can help increase the speed to set up and scale up companies, and can offer more scientists the opportunity to increase their impact'' – Frans Nauta, coordinator Faculty of Impact
This concept has worked previously, for example at the University of Berkeley in the US, where a similar programme called Cyclotron Road has been running since 2014. Frans Nauta, coordinator of the Faculty of Impact: 'We urgently need to make scientific knowledge more accessible for society in the Netherlands. The Faculty of Impact is a serious contribution to this aim. Berkeley has taught us that these kinds of programmes help researchers significantly increase the speed with which they can set up and scale up their companies, and it can offer more scientists the opportunity to increase their impact.'
Techleap sees enormous potential for academic founders in the Netherlands. Constantijn van Oranje, special Envoy Techleap: 'We're in a privileged position, because we have world-class academic knowledge institutions, on the one hand, and an unbridled appetite for entrepreneurship, on the other. Put the two together and you're creating the foundation for a new generation of tech companies that can have an enormous impact on the challenges we face as a society. Support is essential, and that's why Techleap helped create the Faculty of Impact.'
Other career paths
This first postdoc programme for entrepreneurship and valorisation is a joint move by the 14 universities, NWO and Techleap. The Faculty of Impact dovetails well with the cabinet's commitment to promote valorisation and accelerate innovations with social impact. The programme also contributes to recognising and rewarding researchers differently by allowing them to work on other career paths at the universities. The first round of the Faculty of Impact welcomes applications from researchers with ideas related to the 'energy transition and sustainability' theme. They can submit their application on NWO's website until 18 January 2022. Subsequently, 8 to 12 'fellows' will be selected for the first year, which will start next spring. Later rounds will also touch on other themes, such as medical technology and artificial intelligence.